OFFICE HOURS
The Village Offices are open Monday through Friday from 8:00am until 4:00pm.  A drive-thru drop box is available for payments of tax or utility bills after office hours have ended.  The drive-thru drop box is located at the southeast corner of the Village General Office parking lot.  Proceed towards DPW barn door #4 and turn left to use the drive-thru drop box.
---
HALF STAFF ALERTS
---
HOME ENERGY ANALYSIS PROGRAM
The Village of Birch Run does not recommend and/or endorse any service provider or program.  However, there is a program offered by Consumers Energy which is designed to assist individuals with reducing energy/water usage in their homes.  More information on this program can be found at www.homeanalysis-consumersenergy.com or by calling 1-888-316-8014.
---
WATER/SEWER BILL ASSISTANCE
The Village of Birch Run does not recommend and/or endorse any service provider or program.  However, individuals who are in need of financial assistance for their water/sewer bills can contact the Michigan Department of Health & Human Services to find out if financial assistance is available.  More information is available by calling 989-758-1100.
---
2-1-1 COMMUNITY SERVICES
The Village of Birch Run does not recommend and/or endorse any service provider or program.  However, individuals who are in need of any type of community services assistance can dial 2-1-1 to request help for a number of different needs, including food, utilities, taxes, mortgage foreclosure, legal issues, gambling or drug addiction, community shelter, and much more.  A representative is available 24 hours a day, 7 days a week.  The link to their website can be found here.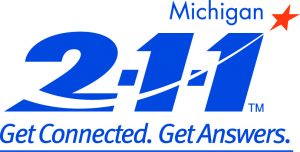 ---
SPECIAL MEETING NOTICES
None
PUBLIC HEARING NOTICES & INFORMATION
None
---
VOTER PRECINCT & COUNTY DISTRICT INFORMATION
Residents of the Village belong to Birch Run Voting Precinct #2 and are a part of Saginaw County District #7. The polling place for all Village elections is at the Knights of Columbus Hall on the Dixie Highway.  All election questions or requests, such as voter registration and absentee ballots, should be addressed to the Birch Run Township Clerk at (989) 624-9773.
Residents of the Village of Birch Run are also members of US Congressional District #8, Michigan State Senate District #26, and Michigan State House District #97.
---
ON-LINE ACCESS TO TAXES & WATER BILL INFORMATION
Village residents and businesses have the ability to access their tax and/or water bill information via the internet.  You will be required to initially register before accessing the data. Once you have created your account, you will have free access to your own parcel's information and/or your own water account information.  If you want to view other parcels in the Village, the service provider will charge an access fee.  The link to this website can be found in the "Links" page. Users can also make on-line payments of their tax bill and/or water bill using a credit card from this website.  Instructions for registering for on-line tax payments can be found on the General Office-Forms page and the instructions for registering for on-line utility bill payments can be found on the DPW-Forms page.
---
TRASH, RECYCLING, & YARD WASTE PICK-UP
For complete trash, recycling, and yard waste information for the Village of Birch Run please visit MMWA's Website (also listed on the Links page). MMWA (Mid Michigan Waste Authority) currently manages the trash collection and disposal, recycling collection and processing, and yard waste collection and composting contracts for 34 member communities.
The Village of Birch Run provides weekly curbside collection of trash, bi-weekly curbside collection of recyclables 2022 SCHEDULE, and weekly curbside collection of yard waste (when in season).  Yard Waste services will begin on April 6, 2023 and will end on November 24, 2023.  Pick-up day is on Thursday for Village residents, unless delayed one day due to a Mid Michigan Waste Authority (MMWA) observed holiday.  For best results residents should have all properly prepared materials at the curb no later than 7:00 am.  Remember, you have a service day not a collection time, routes run until finished. For any service issues always call MMWA at (989) 781-9555 within one business day of your service day.
Visit your community's page for more information on trash and recycling. You can find information on household hazardous waste and electronic recycling by visiting MMWA's website.
---
COMMUNITY EVENT SIGN
In 2014, the Birch Run Rotary Club donated the electronic message board sign, located in Gazebo Park, to the Village for use by the local civic groups and organizations that service the Birch Run community.  Use of the Community Event sign by commercial entities or for individual business promotion is strictly prohibited.  If your local civic groups or organization is interested in having your event posted, please complete the Community Sign Application Form, which can be found in the "General Office – Forms" page.  Requests should be submitted a minimum of seven (7) days before your event.  Please also include an informational flyer if available. 
---
DISASTER PREPAREDNESS
FEMA has created a detailed manual for citizens concerning the issues of disaster preparedness.  To access this manual, click on the following link.
---
DRONE SAFETY INFORMATION
The Federal Aviation Administration (FAA) has created a set of guidelines for the safe operation of small Unmanned Aircraft Systems (sUAS) for recreational use, which include drones.  To view these safety guidelines, click on the following link.
---
SAGINAW FUTURE INC. – INFORMATION & NEWS
Saginaw Future Inc. (SFI) is in the business of generating new investment and job growth in Saginaw County. Established in 1992, SFI is a private, nonprofit alliance of local businesses, the Saginaw County Chamber of Commerce, the County and City of Saginaw, 16 local municipalities, labor organizations, and local foundations. SFI has seven staff members who are advised by a 23 member Board of Directors. The SFI Board represents top leadership in banking, manufacturing, healthcare, labor, education, government, and business.
---
2010 VILLAGE CENSUS DATA
A summary of the Village's statistics from the U.S. 2010 census are available by clicking on the following link: 2010 Census Data
---
VILLAGE PARTNERSHIP AWARD
The Village Partnership Award is presented to a local business that has made a notable contribution to the Village of Birch Run business community. This award recognizes the cooperation and support demonstrated by a local business to assist the Village in improving the social and economic welfare of the community.
Village Partnership Award Nomination Forms will soon be available for the 2022 Partnership Award.
Past award recipients:
2006 – Culvers
2007 – Prime Outlets
2008 – Suski Chevrolet Buick Inc./Birch Run Development LLC
2009 – BR Custom Glass
2010 – Carroll Chiropractic & Massage
2011 – Exit Restaurant
2012 – Schmitzer Hardware
2013 – Don's Foodland
2014 – McDonalds-Birch Run
2015 – Goal Post Restaurant
2016 – Mid-Michigan Screen Printing
2017 – LaFontaine Ford
2018 – Express Stop-Birch Run
2019 – Mr R's A+ Driving School
2020 – Birch Run VFW Auxiliary 7542
2021 – Doug Piggott-ROWE Professional Services
2022 – Birch Run/Bridgeport Chamber of Commerce AND Birch Run Convention & Visitors Bureau